A Care Home with a
Difference
Bramshott Grange offers more than exceptional care. Our home has a strong sense of community and aims to make a difference to the ladies and gentlemen who live with us every day. Offering residential, dementia and respite care, you can rest assured that when you move into our home, you will receive the care you deserve from passionate people who make a difference.
Creating
happiness & fulfilment

through daily activities

Bramshott Grange is more than just a quality care home; we aim to bring happiness and fulfilment to our residents every day through fun and social activities. Everything we plan is centred around the interests of our residents; whether a day trip out to the local area, revisiting long lost hobbies, ballroom dancing, arts and crafts, singing sessions or our weekly gardening club. It's a great opportunity to learn a new skill or revisit old pastimes whilst providing a daily source of fun and laughter!
We provide the
very best

care
Luxury

purpose-built rooms

We have 67 fully furnished ensuite bedrooms at Bramshott Grange, beautifully designed to create a luxury living space. Each room has an ensuite bathroom and suitable fittings for a TV, phone and internet which our friendly maintenance manager can help you set up. Rooms come fully furnished, but residents can bring their own personal items to make it feel like home. Many of the downstairs bedrooms have patio doors which lead out directly onto the beautiful landscaped gardens, with suitable wheelchair access. An automated nurse call system is set up in each of the rooms, which instantly alerts our carers when help or assistance is required. This offers peace of mind to residents that assistance is on-hand when required.
Exceptional

care home facilities

Our home has been designed with the very best onsite facilities, enabling our ladies and gentlemen to enjoy life to the full in a caring and supportive environment. We have social areas throughout the home, perfect for a catch-up with family and friends. All our facilities are fully included, meaning absolutely no surprise costs. Enjoy a drink at the bar, a pampering session in the salon, old movies in the cinema room or an assisted session in the gym. We want every day to be different at Bramshott Grange.
Café
Our coffee lounge is the hub of the home, somewhere to read the morning paper while sipping a cappuccino or catching up with old (and new!) friends over delicious homemade cakes.
The 'Punch Bowl' Bar
A fully stocked complementary bar is perfect for pre-dinner drinks or perhaps a little night cap. A wide range of wines are available at mealtimes for you (and your visitors!) to enjoy.
Fine Dining Rooms
We are passionate about the dining experience our residents and their visitors receive. Enjoy delicious meals from our fine dining menu and beautiful views overlooking the grounds.
Assisted Gym
Our gym is designed for the older person. We provide group and one-to-one sessions, with the chance for rehabilitation with a physiotherapist.
Beauty Salon
In-house beauty salon with complementary facilities. From a new hair style to a manicure, we want everyone to feel their best.
Cinema Screen
A fabulous in-house cinema that hosts regular film nights and big sporting events.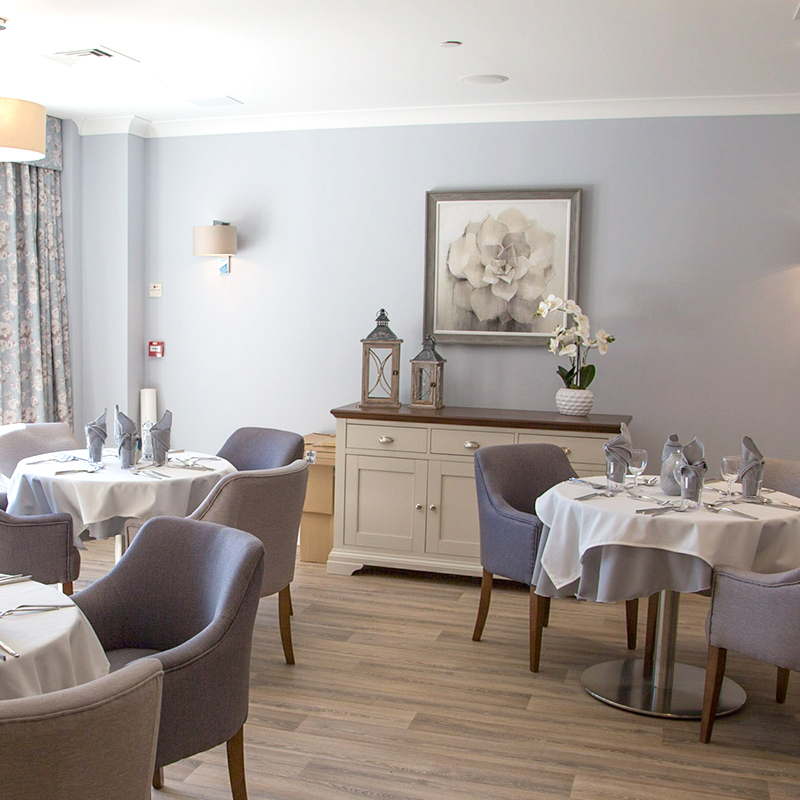 Care home open day 2019 at Bramshott Grange
Join us for National Care Home Open Day at Bramshott Grange, as we welcome you all to our home to celebrate with the local community.
The event is taking place on Friday 28th June, from 10am-4pm and will include lots of activities throughout the day.
More information
Ladies & gentlemen at Bramshott Grange stay connected with loved ones via Skype
Staying connected with family and friends! Bramshott Grange has bought brand-new iPads so that our ladies and gentlemen can stay connected with loved ones at a time where we are sadly unable to accept visitors. Although our residents stay in regular contact wi...
More Information
We're getting into the Christmas spirit at Bramshott Grange!
We've been feeling festive this December and our ladies and gentlemen have been taking part in lots of festive activities. We love Christmas time at Bramshott Grange and can't wait to see what this year brings! Here's what we've been up to so far in th...
More Information
If you have any questions about the care we provide or to arrange a visit please call or email
To request more information, please give us a call or email us. We would love to speak to you about what Dormy Care Communities can do for you and your family.
New Enquiries: 01428 778 500
Family & Friends: 01428 778 500
Email: enquiries@dormycare.co.uk
Arrange a visit
at Bramshott Grange