Back
We're getting into the Christmas spirit at Pine Martin Grange!
Date of news/blog:

12th December 2019
---
We've had lots going on this December in the run-up to Christmas! From activities in the home to events in the local community, we've certainly been getting into the swing of things this festive season. From Christmas concerts, to decorating the home, there's never a dull day at Pine Martin Grange!
Here's what our ladies and gentlemen have been up to this Christmas…
2nd December – Decorating the Christmas tree
To kick-start December, our ladies and gentlemen have been helping us decorate the Christmas tree, making our home look beautiful and festive. Dressed up in gold coloured baubles and topped with a big red bow, we think they've done a fantastic job – and so do our visitors!
5th December – Watching our local primary school's Christmas play
We were delighted to be invited to the local primary school's Christmas play at which our ladies and gentlemen had a fantastic time! The children did a brilliant job of telling the Christmas story and it was an afternoon enjoyed by all.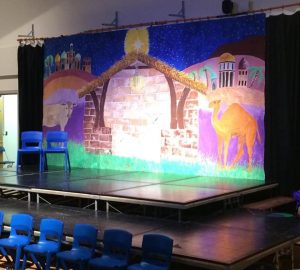 6th December – Elf Day for Alzheimer's Society
This Elf Day, we unleashed our inner elf and dressed up to help raise awareness for dementia. Elf day is a national fundraiser, and every penny raised goes towards offering support to people affected by dementia. A cause very close to our hearts, both staff and residents got fully involved!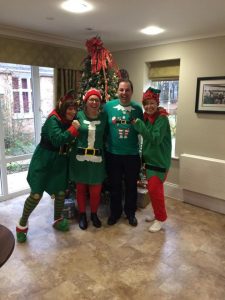 8th December – Christmas tree festival at the local church
We took some of our ladies and gentlemen to the annual Christmas tree festival which takes place every year at the local church. With this year's theme being 'Step into Christmas', our ladies and gentlemen were able to browse more than 30 decorated trees, followed by a Christmas singalong and some refreshments. Here's one of our ladies enjoying the choir:
11th December – Hand bells concert
Thank you to the Sandford handbell ringers, who came to our home to play a Christmas concert for us. Our ladies and gentlemen thoroughly enjoyed the performance and even got the chance to join in with the singing!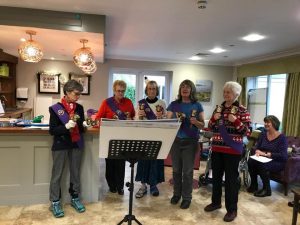 20th December – Pine Martin Grange's Festive Event
On December 20th, Pine Martin Grange is hosting a Christmas event filled with music, mulled wine and mince pies. Everyone is welcome, including family and friends, and we can't wait to celebrate Christmas with everyone a few days early!
Find out more about the event here: https://www.dormycare.co.uk/news-events/festive-mulled-wine-mice-pie-event/