Back
We're getting into the Christmas spirit at Brockington House!
Date of news/blog:

11th December 2019
---
We've been feeling festive at Brockington House and can't wait to spend our first Christmas in the home. Our ladies and gentlemen have been getting into the Christmas spirit with seasonal activities, arts and crafts, Christmas decorations and festive day trips out.
Here what we've been up to…
18th November – Making pinecone crafts for our Christmas Fayre
On the 7th December, Brockington House hosted a Christmas Fayre which was full of festive fun, music, stalls and mince pies. Prior to the event, our ladies and gentlemen were busy painting pinecones and covering them in glitter, ready for our craft stall at the Christmas Fayre. We had a fantastic day at the Fayre and our pinecones went down a treat. Families, friends and members of the community all came along to support us – raising £165 for the Rainbow Trust Children's Charity.
19th November – A festive trip to the garden centre
To kick-off the Christmas period, we took a festive trip to the local garden centre where our ladies and gentlemen did some Christmas shopping and enjoyed a nice hot drink in the restaurant. It certainly got us feeling festive!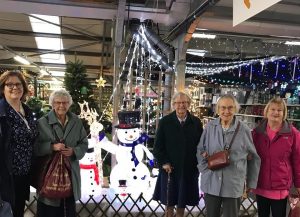 November 29th – Decorating the Christmas tree
Just in time for December, the ladies and gentlemen at Brockington House got involved with decorating the Christmas trees to give the home a warm festive feel. We had a lovely afternoon and they did such a fantastic job that we've had plenty of compliments from our visitors!
6th December – Elf day for Alzheimer's
This Elf Day, we unleashed our inner elf and dressed up to help raise awareness for dementia. Elf day is a national fundraiser, and every penny raised goes towards offering support to people affected by dementia. A cause very close to our hearts, both staff and residents got fully involved as you can see from our photos!
9th December – Christmas hymns with the Salvation Army
We had a lovely visit from the Salvation Army who came to play Christmas Hymns for our ladies and gentlemen. We thoroughly enjoyed the afternoon, with many of our ladies and gentlemen saying that the traditional Christmas Hymns brought back some lovely memories of years gone by.